It attracts the attention of the audience and makes them want to join the session.
Involves fans and other visitors of the game.
The display of personal and team statistics evokes players' sports interest.
Motivates clients to come back to you again to improve their results.
Laser tag
on a big screen
Player statistics
During a session, player statistics are displayed on a personalized tile with a name.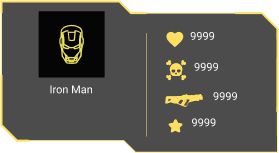 Event log
Allows you to follow the game in real-time. It displays the hits and deactivations of players, the capture of the base, Domination Box, and other events taking place in the arena.
At the end of the session, detailed statistics are displayed on the screen, and you can compare the personal indicators of each player, as well as a team's statistics.
You can change the background to one of the preset options or upload your own, so you can perfectly fit the style and theme of your laser tag center.
What do you need


to broadcast statistics?
| | | |
| --- | --- | --- |
| # | Equipment | |
| 1 | Laser tag equipment | GALAXY or NETRONIC platform |
| 2 | Android tv box | with the TV-OUT application installed. |
| 3 | Tablet or computer | with the Lasertag.Operator or Lasertag.Arena application. |
| 4 | Screen or TV | for displaying statistics. |